Bruin Care Kits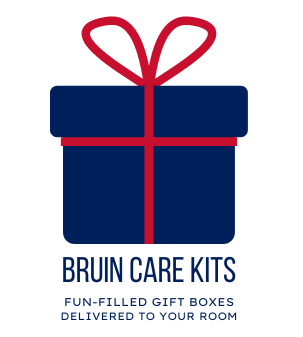 Looking for a way to send love and support to your student on campus? Bruin Care Kits are fun-filled gift boxes that are delivered straight to your student's residence hall each month. They act as a care package filled with items your college student will love. 
Each box adheres to a different monthly theme and contains unique items you might not find in stores. These delightful boxes will often include things like sweet treats, salty snacks, and quirky products to break up the monotony of studying and make your student smile. BCKs are a great way to show just how much you care about your student, even from a distance! 
Parents can include a personalized encouragement note to their student with the option of a customized Parent Postcard. You can also order a birthday box which will be delivered in the month of your student's birthday. Order your Bruin Care Kit today! 


Belmont Marketplace + DormCo
The Belmont Marketplace website provides links to necessities such as personal property insurance, hall furniture (specifically safety guardrails for lofted beds), our custom curated Bruin Care Kits and other recommended items for living on campus. It is our goal to provide quality products and recommendations to our incoming students in order to make the transition to campus living more efficient, effective and hassle-free! To better achieve this goal, the Office of Residence Life at Belmont University has partnered with DormCo to help our incoming students be better prepared as they transition to more independent living. 
Place your orders for Fall 2022! Order from the Belmont Marketplace or from our DormCo partners no later than July 22, 2022, to qualify for in-room delivery by move-in day. 
Be sure to shop DormCo using our specific link: www.dormco.com/belmont. After the July 22, 2022, deadline, any items ordered from DormCo will be delivered as a regular package to the on-campus UPS Store. 
Please feel free to contact us at marketplace@belmont.edu with any questions. 
Please note that Belmont Residence Life does not offer in-room delivery for any other packages delivered to campus prior to move-in. The UPS Store (campus mail center) requests that no packages be mailed to campus earlier than one week before move-in due to limited storage availability. 
What is DormCo?
What is the benefit of buying my room supplies from DormCo and the Belmont Marketplace?
What is the deadline for ordering for in-room delivery?
I live off campus. Can I still order from DormCo or Belmont Marketplace?
What if I have questions or issues with my order?