Upperclass Students Only
Overview
Belmont's newest residential complex is set to open in Fall 2022 and will be home to over 600 upperclassmen residents. The 268,000 square foot structure will join the residential village created with the completion of Tall Hall in 2018 on the south end of campus. Like Tall Hall, this building will provide incredible views of downtown Nashville.
The building will feature all private bedrooms in apartment-style living with a multitude of amenities such as a fitness center, flexible basement space and vending area, a unique two-story lobby featuring study and gathering areas, and two exterior courtyards. The structure will be built with the same high-performance environmental standards as other Belmont projects.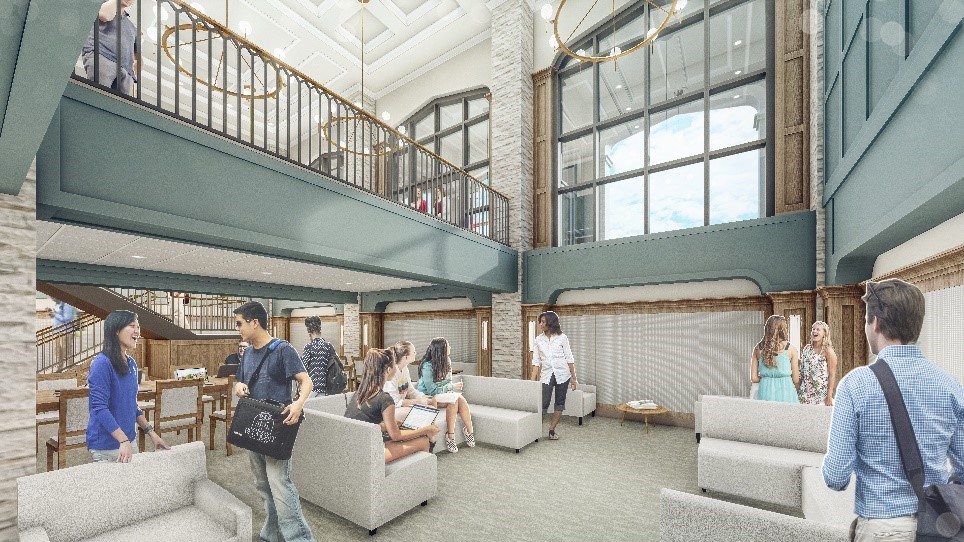 The main entrance and floors are monitored by card access. Laundry services are available on the basement level. All utilities, cable service, and internet service are included in the cost for Caldwell Hall. Students who live in Caldwell Hall are required to have a meal plan.
Staff
Caldwell Hall residents are supported by 15 Residents Assistants (RAs). Each RA has gone through extensive training in order to be a resource to our residents. RAs create social and educational opportunities in the complex through programming and community building efforts.
The RAs are supervised by one full-time, live-in professional staff member, known as the Residence Director. The RD is trained in crisis management, acts as a resource to the residents of the complex, and oversees the administrative aspects of the complex such as maintenance and discipline. The RD maintains regular hours in their office on the lower level. The RD also lives in an apartment within the complex. Caldwell Hall is also supported by a part-time assistant residence director.
The front desk will be open during visitation hours.
Click here for a lookbook with floor plans for each apartment style grouping. 
Apartments
Room Style: Apartment style; 1-6 bedrooms
*IMPORTANT NOTE: One-bedroom apartments and studios will not be equipped with a full kitchen. A kitchenette with a small refrigerator will be provided. All other apartments will be equipped with a full kitchen.
Layout
Kitchen
Bedroom
Living Room
Mail