Career Planning
Career Planning - Seniors
Apply to open positions or graduate schools. If you haven't visited Career Development yet, now is the time!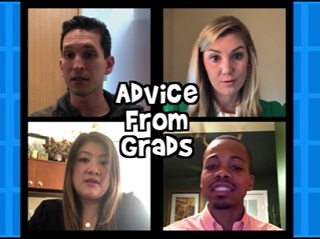 Advice from Graduates
Download Quick Tips (PDF)
CareerSpots.com ©
Assess your work related values, interests, and skills by taking Focus.
Find out your personality type and learn about careers that might be a good fit for you by taking the Myers-Briggs Type Indicator.
Explore occupations that might be a good fit for you by taking the Strong Interest Inventory.
Volunteer your time with community organizations.
Research occupations on O*Net.
Plan and organize your job search or graduate school plans.
Refine your resume and have your resume reviewed by a staff member in Career Development. Sample resumes are available on CareerConnector. Upload your resume to CareerConnector, publish it to a resume book for employers to view, and apply for positions.
Choose faculty, administrators, and previous supervisors you want to use as references.
Network with Belmont faculty, staff, and alumni; peers, professional contacts, family, and friends and keep them up-to-date on your job search. Networking is the number one way to find a job and leads can come from the most unexpected people!
Research industries, professional associations, occupations, and salary information using our Online Career Resources, GoinGlobal, and CareerShift.
Set up informational interviews with professionals in your field of interest.
Develop your public speaking, communication and organizational skills.
Attend the Belmont & Beyond series during the Fall and Spring semesters.
Follow the Office of Career and Professional Development on Facebook, Twitter, and Pinterest for career related articles and resources, job and internship announcements, and event information.
Create a LinkedIn profile and connect with your professional contacts. Join the Belmont University Career Development LinkedIn Group to connect with Belmont students, alumni, faculty, and staff.
Attend Career Day in the Fall and the Nashville Area Career Fairs in the Spring – contact the Office of Career and Professional Development to obtain a free ticket.
Interviewing for a position or graduate school? Utilize InterviewStream or set up a practice interview with a staff member in Career Development.
Meet with a staff member in Career Development to discuss job search strategy, have your resume or cover letter reviewed, or practice your interview skills.
If you have accepted a position or been accepted to graduate school, please share your great news with us so we can celebrate with you! If you are still searching, contact our office – our services are available to you as a Belmont graduate!